Almadar leverages one-stop risk coverage with Subex
Witnesses exponential benefits from a custom-built integrated Revenue Assurance and Fraud Management solution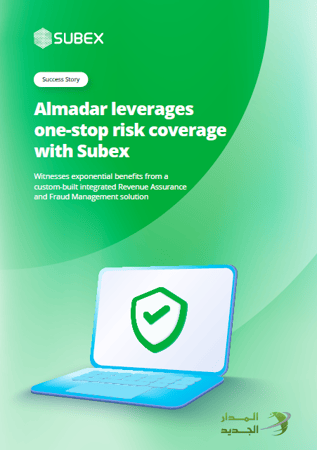 What's in the Case Study?
With the rising competitive environment where digital transformation is rapidly bringing in new business models, CSPs are looking for a partner who understands their unique differentiation and specific challenges to enhance risk mitigation and improve profitability.

Almadar Aljadid, one of the reputed Telecom operators in the Middle East, was looking to finetune its existing risk Assurance system to increase its consistency and reliability and assess the fraudulent and revenue leakage areas. They wanted to reinforce their stand and deploy capabilities to safeguard their customers, prevent revenue leakages from unknown factors, and mitigate risk from emerging threats.
With a strategic combination of Subex's Revenue Assurance, Fraud Management, and a special team of experts, Almadar has enhanced its business processes, improved system responsiveness, and enabled timely decision-making. In a period of 6 months, the Subex team of experts helped Almadar:
Generate effective ROI

Improve maturity level

Enhance revenue assurance and fraud management coverage
To know more, download the case study from the link above!