Botswana Telecommunications Corporation (BTC) accelerates partner settlement and route optimization with Subex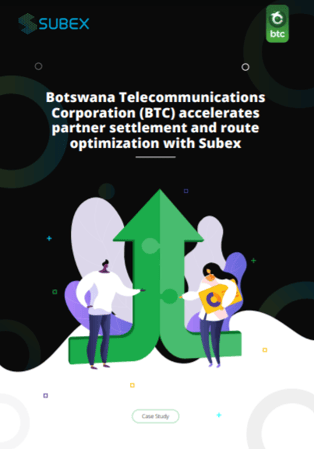 What's in the Case Study?
With millions of events and data being generated every day, Telecom operators need an error-free, transparent, and efficient partner settlement system to manage their day-to-day operations and sustain successful long-term partnerships. With expanding digital services and increasing product complexity, achieving this type of system is becoming challenging.
Read how Botswana Telecommunication Corporation automated and strengthened their partner ecosystem with Subex, gaining more visibility and high efficiency to meet their business goals and deliver an incredible quality of service to their customers.
They were able to build an end-to-end solution to manage the business operations and enhanced automation for:
• Monitoring the partner events

•

Providing accurate reconciliations

• Enabling quick resolution of disputes

• Bringing in automatic route optimization
Download this case study for free now!