Revolutionizing Partner Settlement and Route Optimization Unleashing the Potential of AI/ML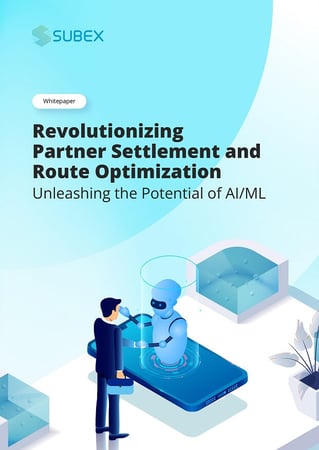 What's in the Whitepaper?
In today's dynamic B2B landscape, CSPs are at a pivotal juncture, seeking innovation to monetize new services while tackling complex partner management challenges. Explore our whitepaper on how AI and ML are revolutionizing partner settlement and route optimization for CSPs.
Key Highlights:
5G, IoT, and Edge Transformation: With the reshaping impact of 5G, IoT, and Edge technologies, CSPs have a unique chance to harness new revenue streams. Traditional sources are stagnant, urging a shift to innovation.

Partner Management Challenges: CSPs grapple with diverse partner needs, non-traditional pricing, real-time responsiveness, and data surge from new services.


AI/ML as the Answer: Uncover how AI/ML drives transformative change in partner settlement and route optimization. Leverage AI/ML for data insights, real-time agility, automated credit management, optimized traffic routing, and predictive performance assessment.

CSP Impact: Discover how AI/ML empowers CSPs to swiftly adapt, open revenue streams, and excel in the dynamic B2B landscape. From dynamic pricing to personalized offerings and advanced credit management, AI/ML fuels strategic decisions and operational excellence.